Swift Current SK
established in 1970
In the Eliminators Car Club's 50 years we have held many raffles, put on lots of dances and even concerts.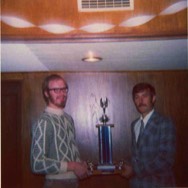 We held car shows for many years, having had Rod Runs through out the Southwest.
We even ran a Drag Strip on the old #1 Highway and started the St. Aldwins Dragway.
Eliminators have now hosted the Riverside Rod Run in Swift Current's Riverside Park for the last few years, making it a popular event attracting 125 vehicles or more to park in the trees to relax for the afternoon and then enjoy a full meal for supper at the club with lots of door prizes and fun.

In the past, we have built and raffled off the following two project vehicles,
a 1950 Mercury Custom and a 1927 Model T Hot Rod:


We are also proud of our involvement in the Speedy Creek Soap Box Races
- we supplied manpower for 25 years before passing the torch.
During that time and at present we sponsored 2 cars - a junior car and a senior car and donated a trophy.