Swift Current SK
established in 1970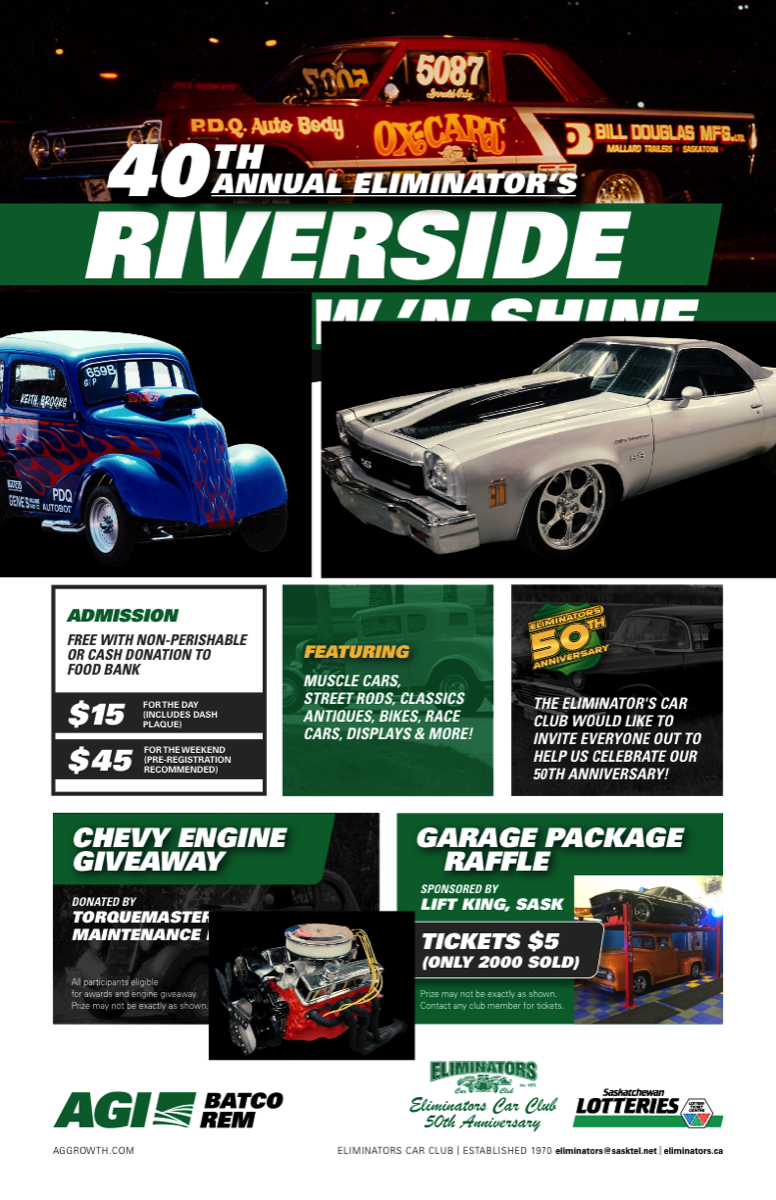 Please note the 2020 run will be held at Elmwood Park.

ELIMINATORS CAR CLUB 50TH ANNIVERSARY
The club is celebrating its 50th Anniversary this year
in what promises to be fun, entertaining and a lot of work.

The club has strived to maintain our club mission statement that we,
as a very young group of individuals, put into play so many years ago.

All present and past members can and should be proud
of the achievements the "Eliminators Car Club"
has had over the past 50 years.
Be that the dragstrips, car shows, rod runs,
construction of our own shop, or
numerous community endeavours that
we have been involved in throughout the years!

All of our past successes could not have been
possible without the support of the public and the
Business Community of Swift Current
and Southwest Saskatchewan.

Let us not forget all those that participated and
the support of various Saskatchewan Car Clubs.

It is with this in mind that the Eliminators Car Club
and their families would like to
Thank Everyone
for their contributions, however big or small.

Looking forward we would invite everyone to our
40th Riverside Run in Elmwood Park,
August 14,15 & 16, 2020
Swift Current, Saskatchewan
and help us celebrate this our 50th year as a club.

Register here for the 2020 Run.
The Eliminators Car Club is
selling 2,000 tickets on a
Lift King four post hoist!

Because of the social distancing measures in effect,
we are only selling tickets online at this time.

Tickets for this year's draw are only $5 each!
Act fast … Only 2,000 printed!


The draw will take place at midnight on Aug 15, 2020
at the Eliminators Car Club Banquet.
Good Luck everyone!

The 2019 winner of the Custom Small Block Chevrolet engine was
Ross Williamson of Lac Pelltier with ticket number 114.